Commercial Gym Flooring OEM & ODM For Your Brand
24 years experience in gym accessory manufacturing
Trusted manufacturer with our clients all over the world
Manufactures accessories that can withstand long-term abusive use
Improve efficiency and safety
Designed with shock-absorbing and anti-vibration properties
Provides extra cushioning
Protects the floors against scratches and dents
Ideal to use in weight lifting, deadlifting, wrestling, yoga, boxing, and other gym-related sports.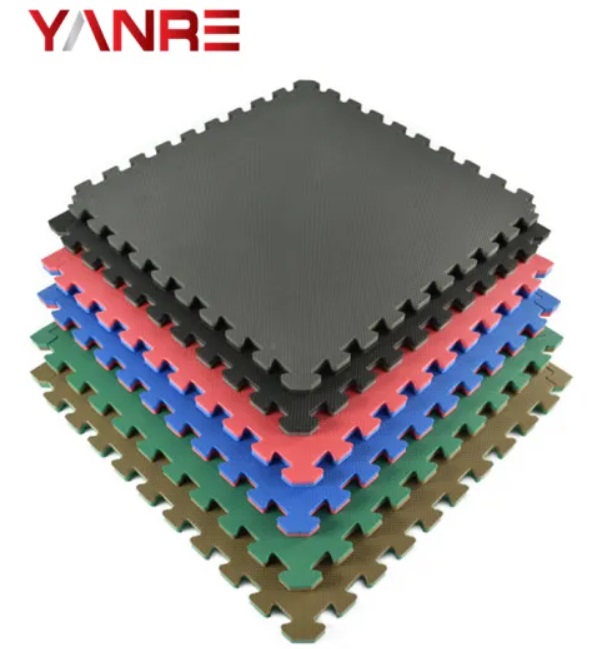 Factory
Over 95% clients choose to cooperate with Yanre Fitness, after visiting our factory and trying our commercial gym equipment personally.
Patents
Our gym equipment meet ISO 20957 standard, with over 40 patents (Utility Model Patents & Appearance Design Patents)
R&D Invest
For more than 20 years, Yanre Fitness invested over 8 million USD for technology development.
Commercial Gym Flooring –
Definitive FAQ Guide
Commercial gym flooring is a building block for any gym setup. For both gym owners & gym flooring suppliers, it is of utmost importance.
If you are looking for various wholesale gym flooring options, then this FAQ guide is for you.
It has all the information you need to choose the best flooring option for your commercial gym or business.
Let's begin!
Table of Contents
What is the construction of commercial gym flooring?
Following materials are used for the construction of commercial-grade gym flooring:
Foam gym flooring
Wooden gym flooring
Vinyl gym flooring
Turf gym flooring
Rubber gym flooring
Carpet gym flooring
Cork gym flooring
Foam Gym Flooring
This gym flooring uses EVA foam for construction. EVA stands for ethylene-vinyl acetate copolymer.
It is available in the form of tiles. In a commercial gym, this type of flooring is used for activities like yoga.
Heavy gym equipment may cause damage to foam gym flooring. It also becomes slippery if the tiles get wet.
This type of gym flooring is:
Easy to assemble
Cost-effective
Shock-absorbent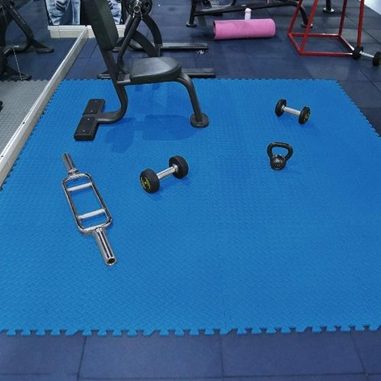 Figure 1 – EVA gym flooring wholesale
Wooden Gym Flooring
Wooden commercial gym flooring is pleasing to the eye. It gives the gym interior a professional look.
Though, this type of flooring provides little to no cushion. Falling or slipping on wood flooring is bound to cause injury.
To avoid that padding, gym mats are used over it.
Wooden gym flooring is:
Hard
High-priced
Best for activities like boxing
Prone to splintering
Not scratch resistant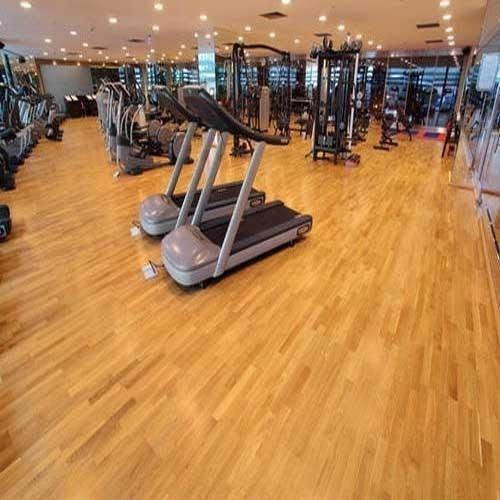 Figure 2 – Wooden gym flooring
Vinyl Gym Flooring
Vinyl gym flooring is versatile & easy to customize. It is available in many colors. It is prone to damage by falling equipment.
Vinyl gym flooring is:
Easily assembled
High-priced
Low maintenance
Little to no cushion
Not scratch resistant
Long-lasting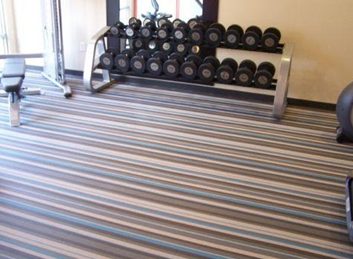 Figure 3 – Commercial vinyl gym flooring
Turf Gym Flooring
Turf is a synthetic material that looks similar to grass. It is a versatile option for gym flooring. Though, it may not offer the floor underneath much protection from heavy gym equipment. This type of flooring is:
Aesthetic
High-cost
Long-lasting
Shock absorbing
Labor intensive assembly
Safer for high-intensity workouts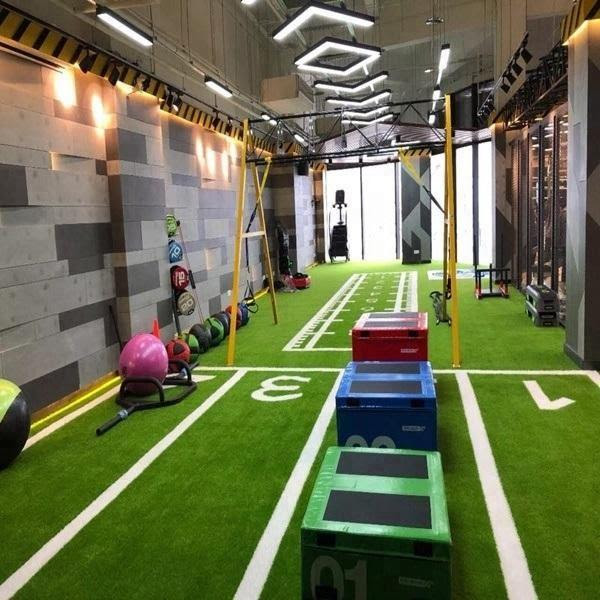 Figure 4 – Synthetic turf gym flooring
Rubber Gym Flooring
Rubber is a versatile & widely available material for commercial gym flooring. This type of flooring is in demand because it is:
Sturdy
Low maintenance
Inexpensive
Long-lasting
Easy to assemble
Cushioning effect
Rubber gym flooring doesn't provide much insulation & may have a rubber smell. It eventually goes away, though.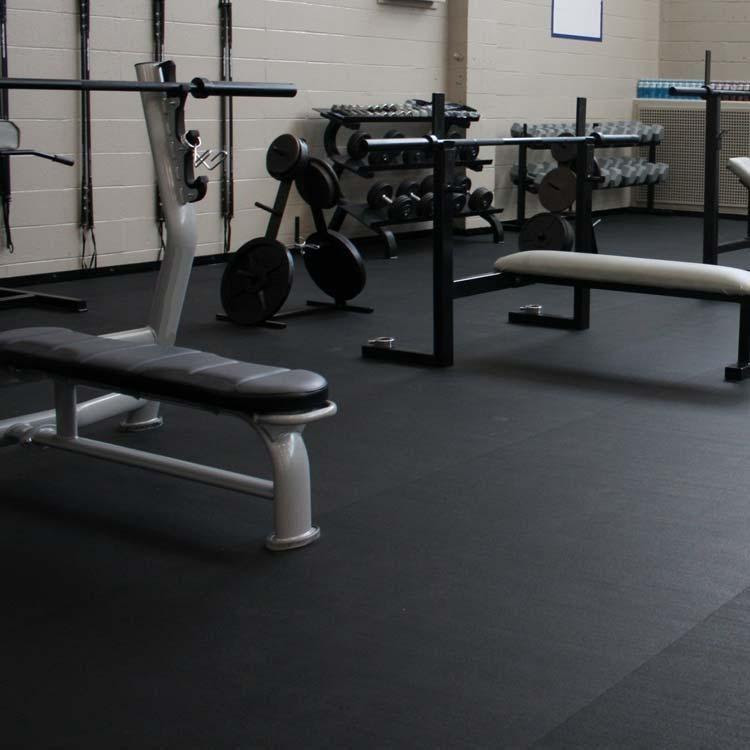 Figure 4 – Commercial rubber gym flooring
Carpet Gym Flooring
Carpet as a form of gym flooring is unusual. It provides full floor coverage with ease. Carpet is cost-effective & provides cushion.
That is pretty much all of its benefits.
Carpet gym flooring collects specks of dust, absorbs sweat, & is high-maintenance. It may cushion a fall but provides little cushion to the floor underneath.
Soaking up moisture & sweat makes it susceptible to mold. Carpet flooring loses its color & starts to smell after prolonged use.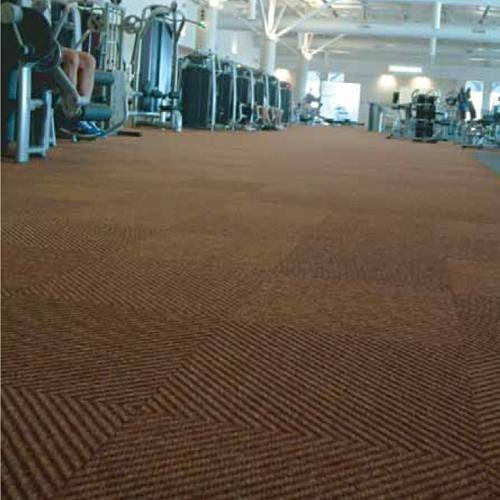 Figure 5 – Carpet gym flooring
Cork Gym Flooring
Cork comes under the heading of organic materials. It is considered to be good for the environment in the long run.
It is also cost-effective; therefore, it is much less of a burden on the budget.
Cork gym flooring is not very sturdy, though. It is best suited for parts of the gym without heavy gym machines or free weights.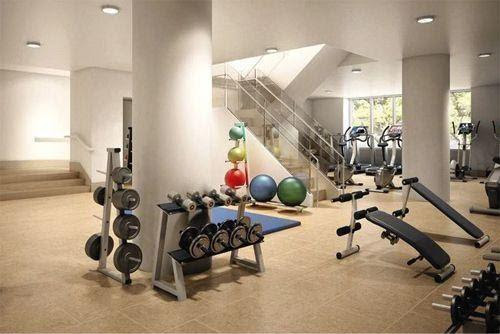 Figure 7 – Commercial cork gym flooring
Commercial gym flooring is available in a variety of constructions. You can choose the one compatible with your business & client's needs.
What are the various forms of rubber gym flooring available in the wholesale market?
Commercial rubber gym flooring is available for sale in three forms, which are:
Commercial rubber flooring rolls
Commercial rubber flooring tiles
Commercial rubber flooring mats
The benefit of having rubber flooring available in three forms is that it can accommodate any type of space.
Whether you want to cover a small, large, symmetrical, or asymmetrical area, you can choose rolls, tiles, or mats accordingly.
It also allows wholesale gym flooring manufacturers & supplies to offer a versatile product to their clients.
Commercial Rubber Flooring Rolls
If you have a large area to cover, then rubber flooring rolls are the way to go. These long sheets of rubber are easy to put together & accommodate all types of spaces.
Rubber rolls provide a firm grip & padding during use. They also protect the floor underneath from damage by falling equipment.
Yanre Fitness manufactures all forms of premium quality rubber flooring. You can have a look by visiting our website.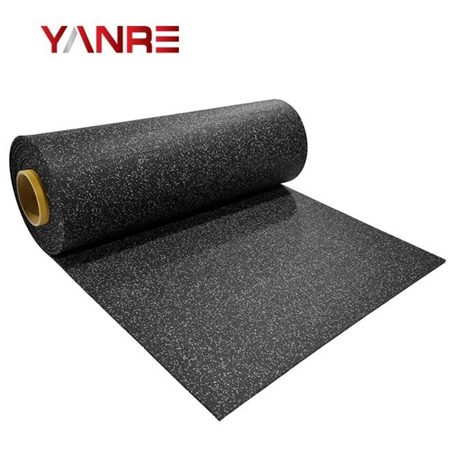 Figure 8 – Commercial rubber gym flooring rolls
Commercial Rubber Flooring Mats
Unlike rubber rolls, flooring mats are for smaller spaces. They have to be laid down one mat at a time.
Commercial gym mat flooring is a way to separate the gym space into smaller areas, as well. (For example), commercial weight room flooring.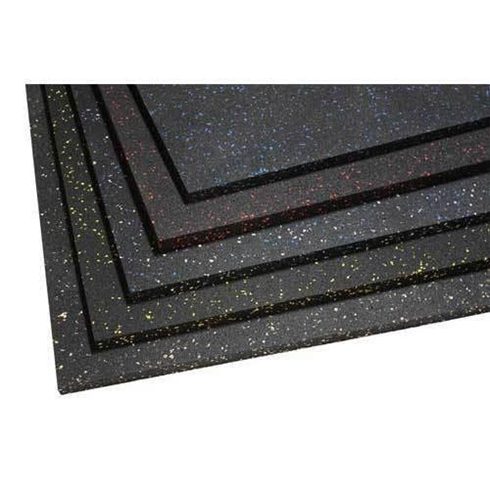 Figure 9 – Commercial rubber gym flooring mats
Commercial Rubber Flooring Tiles
These are similar to rubber flooring mats. The difference is the pattern on the edges. Flooring mats have straight edges, whereas tiles have an interlocking design on the edges.
It allows them to be put together like pieces of a puzzle. Rubber flooring tiles can accommodate both small & large spaces with ease.
These are easy to put together but can be dislodged with excessive use. That is easily remedied, though.
Just put the tile in place & glue it again & it will be as good as new.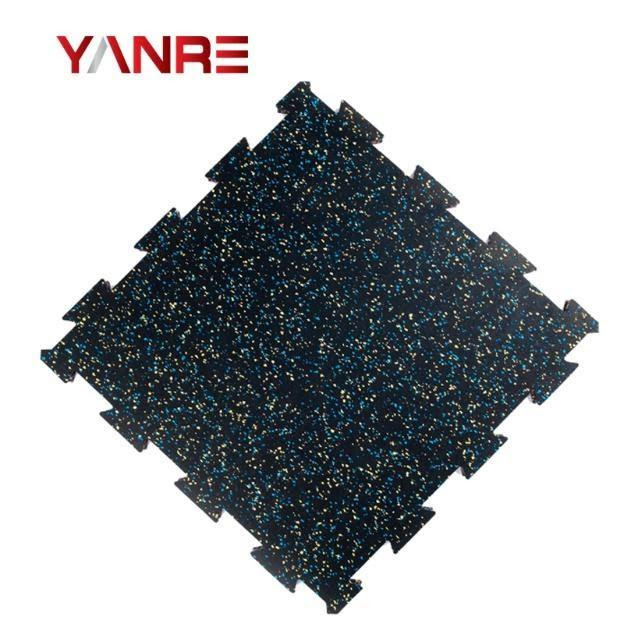 Figure 10 – Commercial rubber gym tiles
All forms of rubber gym flooring have the same benefits, such as being long-lasting, sturdy, cushioning & protecting the floor underneath.
What makes rubber commercial gym flooring preferable to other types?
Rubber gym flooring has an edge when it comes to gym flooring. There are many reasons for that.
Rubber in itself is a sturdy & long-lasting material. It provides padding during use & is relatively cost-effective compared to others.
It is also available as rolls, tiles, & mats to accommodate all kinds of spaces & areas.
All these qualities make rubber gym flooring a better choice for commercial gyms & businesses.
What is the average thickness of commercial gym flooring?
The average thickness for gym flooring wholesale ranges from 1/4 to ½ inches (6.35 mm – 12.7 mm).
The ideal thickness for professional gym flooring is 9.5 mm or 3/8 inches.
One of the factors that are taken into consideration for floor thickness is usage. If the area is for storing heavy gym machines, it's preferable to have the floor thickness at ½ inches or above.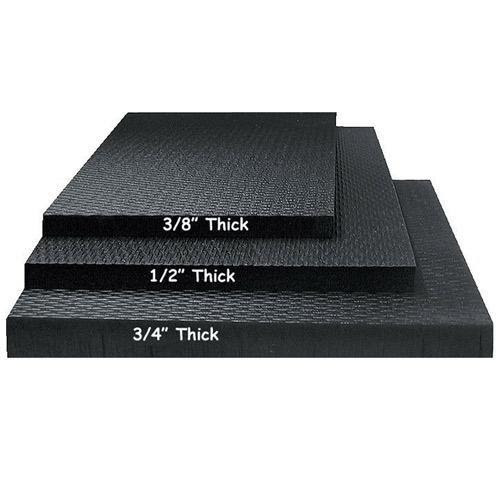 Figure 11 – Thickness of commercial gym flooring tiles
What is the average price for commercial gym flooring?
The average cost for commercial gym flooring is approximately in the range of 2$ to 18$ per Sq.ft.
Many factors affect the price of gym flooring. Like:
Size of the space
Material of the flooring
Rubber flooring rolls & tiles are sold per Sq.ft. Thus, the cost will go up depending on the floor space that needs to be covered.
Rubber flooring mats can cost anywhere from 40 dollars to 150 dollars.
Vinyl flooring or wooden gym flooring is pricier comparatively, costing a 1000$ or above per Sq.ft.
Is it necessary for commercial gym flooring to be water-resistant?
Yes, it is.
Commercial gym flooring needs to be water-resistant & odor-resistant.
Gym flooring that is prone to absorbing moisture is a safety hazard. Damp flooring promotes mold growth & smells bad, as well.
Commercial gyms see a lot of foot traffic. Flooring which is not water-resistant is susceptible to damage from sweat & prolonged use.
Is commercial gym flooring easy to install?
The level of difficulty varies based on the kind & form of flooring.
If you are assembling tiles or mats, then it's a straightforward process. You can do it yourself.
Installing rubber flooring rolls will require assistance for lifting & setting up the pieces precisely.
Other types of gym flooring (turf or vinyl) are best left to professional installers.
Gym flooring manufacturers always include a detailed & easy-to-understand installation manual with their products.
The manual will tell you if there is a need for professional installers or not.
What is the significance of the underlay for commercial gym flooring?
An underlay is essentially a form of padding installed under commercial gym flooring.
There are different kinds of underlays. Some of them are specific to a particular type of flooring.
Underlays provide three main benefits:
Padding or cushioning
Balance
Noise control
Gym flooring materials like wood benefit the most from the use of underlays. Some forms of gym flooring require an underlay for proper installation.
Underlays make gym flooring sturdy & long-lasting. They also decrease the risk of accidental damage to the floor underneath by falling weights or other gym accessories.
Figure 12- Underlay for wooden gym flooring
What is the effect of commercial gym flooring on the noise level in a gym?
Reduction in noise level becomes a necessity for commercial gyms, especially if they are not on the ground floor.
Yes, commercial gym flooring decreases the noise levels in a gym. Though, this benefit mostly depends on the type of flooring & its capacity to absorb impact.
Rubber gym flooring is better for reducing noise levels to a large extent.
The thickness of the flooring also plays a role in this regard. The thicker the floor, the less noise it will produce.
Using underlays for gym flooring dampens noise levels further.
What is the maintenance process for commercial gym flooring?
The maintenance of commercial gym flooring varies based on its type. Some gym flooring is low maintenance & only requires a soap & water solution for cleaning.
For others, you may need the help of professional cleaners.
Of course, it is always the better option to go with low-maintenance commercial gym flooring.
Though, if your gym flooring requires any specific type of maintenance, the instruction manual will mention it.
Discuss the maintenance process in detail with your manufacturer before placing your wholesale order.
What is eco-friendly commercial gym flooring?
The word eco-friendly means it is good for the environment.
Eco-friendly materials are organic or recyclable. Cork gym flooring is considered eco-friendly.
It has its drawbacks, though.
Cork is fragile & not suitable for high-impact areas of the gym.
It could be reinforced by putting an underlay. This type of flooring is for areas with no heavy fitness equipment.
Recycled rubber flooring is also a form of eco-friendly flooring. Yanre Fitness uses recycled rubber for its commercial rubber flooring tiles.
Figure 13 – Recycled rubber flooring tiles by Yanre Fitness
Is commercial gym flooring customizable?
Yes, it is.
Yanre Fitness provides a range of customizable options for its commercial gym flooring. These include:
The color of the flooring
Printable logo & logo design
Printable business motto or tagline
Always discuss ways to customize your wholesale order with your manufacturer. Custom gym accessories are a great way to increase your brand's standing.
Talk to our sales department about your specifications & we will do our best to fulfill them.
How much of the gym floor should be covered with commercial gym flooring?
Full coverage of the gym floor is always the best option.
You can use more than one type of flooring but leaving an exposed area of the gym floor is an injury hazard.
The exposed areas are also prone to collect dust & debris over time which is not ideal for health.
It is better to use gym flooring mats or tiles to cover these exposed areas of the floor.
What is the effect of temperature on commercial gym flooring?
Commercial gym flooring undergoes contraction & expansion due to temperature changes.
To account for this the flooring is not immediately glued after laying it down. It allows the flooring to adjust to the temperature inside.
As a further precaution, use joints between floor tiles.
Conclusion
Choosing the right gym flooring for your gym or business is an important decision. This FAQ guide aims to make this choice easier for you.
Hopefully, I have accomplished that goal.
If you are looking for commercial gym flooring, don't forget to check out our website. We have some of the best gym flooring options in China.
You will not be disappointed.
Contact us & ask for a quote today!
Recommended Reading: The Ultimate Gym Flooring Buying Guide for Gym Owner's