Your Reliable Eco-Friendly Yoga Mats Supplier in China – Yanre Fitness
Patents & certificates: meet ISO20957 standard, over 40 patents (Utility Model Patents & Appearance Design Patents)
Yanre Fitness gym equipment gives a well-designed angle movement
Acknowledged by our clients all over the world 
Made of eco-friendly EVA material, anti slip,  and odour-free. 
Durable with good elasticity and uneasy to be torn or even broken off
Lightweight and suitable for gentle yoga exercises indoor
Factory
Over 95% clients choose to cooperate with Yanre Fitness, after visiting our factory and trying our commercial gym equipment personally.
Patents
Our gym equipment meet ISO 20957 standard, with over 40 patents (Utility Model Patents & Appearance Design Patents)
R&D Invest
For more than 20 years, Yanre Fitness invested over 8 million USD for technology development.
Gym Storage Rack –
Definitive FAQ Guide
Commercial gyms are filled with all kinds of fitness equipment. It means good quality storage is a priority to avoid accidents and injuries. From all the different versions up for sale, which gym storage rack should you pick?
Based on many things to consider, it can be hard to know where to start looking or what questions need answering first. That is why this FAQ guide will explore them all and make it easier to pick the best option for your needs.
Table of Contents
What is a Gym Storage Rack?
A gym storage rack is a shelf or holder for your equipment. It is a great way to organize all of your equipment. It can be wall-mounted or sit on the floor, but either way, it creates more space in the already crowded weight room by organizing accessories like barbells and dumbbells.
Gym Storage Rack also protecting any random objects that might get left behind when people skip out early. Just make sure you have enough hooks for each piece, so everything doesn't end up piled high at one end.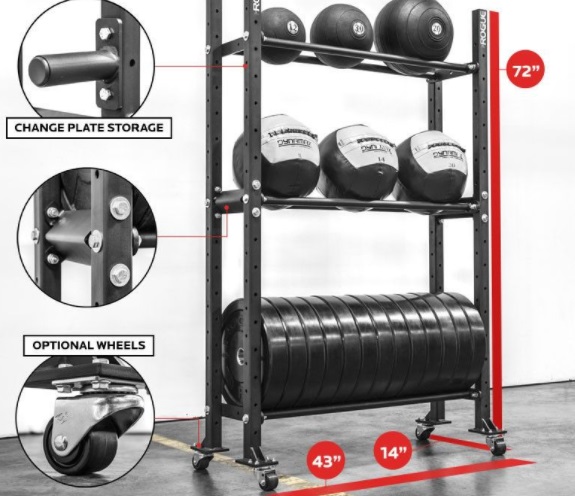 Figure 1 – A wholesale gym storage rack
What are the types of Gym Storage Racks?
As storage is essential for any commercial gym setup, many different versions of gym storage racks are available wholesale.
These include:
Dumbbell and Barbell Gym Storage Racks
These are generally just racks mounted on the floor or wall used to store in bulk dumbbells and barbells either individually or in pairs, which allows easy access while reducing clutter at the same time.
Usually, these have an adjustable weight capacity from 10Kg to 30Kg per dumbbell slot. The most common type that you can find comes with four wheels installed on its bottom side, making it easier to move when there are heavy contents inside it.
Weight Plate Storage Racks
These are specially designed gym equipment to store weight plates either individually or in pairs. They also allow easy access while keeping the contents safe from any sort of accident.
There are three-wheeled and four-wheeled varieties known with an adjustable capacity from 15Kg to 25Kg per weight plate slot.
Exercise Ball Storage Racks
These are specially made for storing exercise balls with a large surface area that makes it troublesome to keep them stored correctly in bulk without taking up much space.
It can hold 5 to 8 balls that can be kept at one particular place, allowing every user's ease of access at all times. The most common variety is made by installing casters on the bottom side to be easily transferred when filled with exercise balls.
Wall-mounted Gym Storage Racks
These are very commonly used as they can hold a heavy amount of weight without much fuss.
They have an adjustable height to accommodate users of different altitudes, and they could store up to thirty pounds of dumbbells or barbells in each slot. Some varieties even offer spaces for several plates in a single rack.
Multi-purpose Gym Storage Racks
These are highly versatile gym equipment that does not serve only one purpose but several purposes at once at the same time.
Common types include wall-mounted ones that provide additional storage space for weight plates or exercise balls and multi-tier ones that allow users to store several dumbbells or barbells in an organized manner with ease of access etc.
Figure 2 – Different kinds of wholesale gym storage racks
What are the different types of Dumbbell Gym Storage Racks?
There are a wide variety of shapes and sizes that you can use, but one shape is much more popular than others: the A-frame dumbbell rack.
The other two most common types include 2-tier frame and 3 tier frame, which have advantages depending on what kind of workouts you're doing or how many weights need storing at any given time concerning available space for them.
Triangular (a-frame) Dumbbell Storage Rack
A-Frame Dumbbell Rack is a simple concept. It consists of two vertical pillars and an Arch bar with a metal pin inside the pillar to place dumbbells on it.
A-Frame dumbbell rack saves space and costs less. They are perfect for a gym or training center that needs to carry lighter loads.
Figure 3 – Yanre Fitness A-frame dumbbell rack
Horizontal Dumbbell Storage Rack
There are at least two types of this storage rack.
2-Tier Frame
The 2-tier frame dumbbell rack is an excellent option for the medium type of gym or training center. This balanced frame and solid construction help keep any dumbbells on the shelf, making it easy to organize weights by weight level.
However, the downside of this shape is that it takes up more space than an A-Frame does, making storage difficult in tight spaces or small areas.
3-Tier Frame
When organizing the workout gear, a 3-tier shape is the most popular for professional gym centers. It can hold heavier items and accommodate more weight, so it is the most convenient rack for extensive fitness training facilities with various equipment they need to store.
It comes in either straight or angled versions. That is why this type of rack can accommodate both heavier and lighter loads with ease.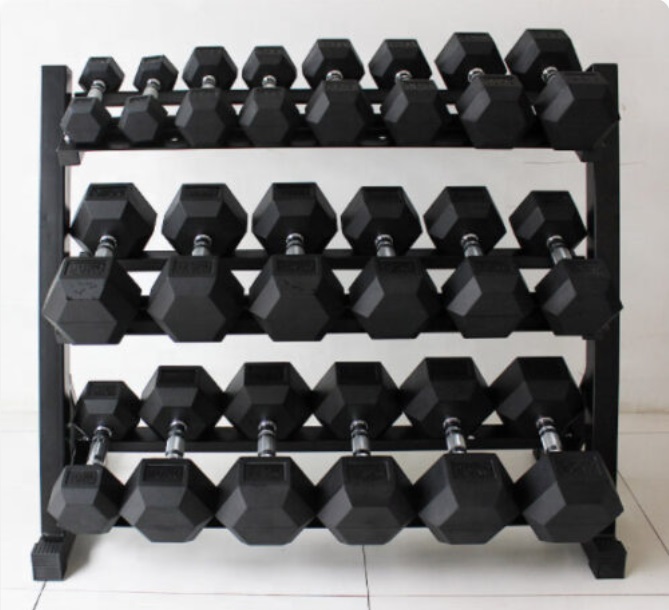 Figure 4 – Horizontal, 3-tier, Yanre Fitness dumbbell storage rack
What is a Dumbbell Gym Storage Rack made?
A dumbbell storage rack has an electrostatic powder-coated steel frame with rubber foot pads that will securely hold your weights in place, preventing damage or movement during use.
This weight holder needs to be well constructed and sturdy because it is used primarily as inventory. So you want something durable enough not only to withstand the force of lifting heavyweights but protect them from scratches while they are sitting still, too.
However, when purchasing this product, make sure there are no gaps between the holding bars where dust can accumulate. Otherwise, these might eventually contact your dumbbells, which could cause dangerous wear on both surfaces over time.

Figure 5 – Construction of a dumbbell gym storage rack
What are the features of a Dumbbell Gym Storage Rack consider?
There are at least eight features of a dumbbell gym storage rack before buying it.
High-Gauge Steel Construction
You should choose a dumbbell storage rack with high gauge steel to ensure durability and stability. The weight of the barbells can damage a low-quality construction.
Powder Coat Finish
A powder coat ensures that the rack will not be affected by rust or any other kind of moisture because it ensures that the additional layers protect its surface from moisture absorption. It also helps prevent rust in between joints, welds, and frames.
Welded Frame
Welded frame dumbbell or weight storage racks will be stable and have a longer life expectancy than the racking systems, which are put together with glue or pins. It is one of the most important features when considering what kind of storage rack you want to store your weights without worrying about them being damaged.
Rubber Feet
Another essential feature is rubber feet because they are necessary for stability and durability. It prevents the storage rack mounted on the floor, fall as soon as you lift them.
Multiple Levels
Another essential feature is multiple levels. If the storage rack has more than one level, this means that it will fit all of your weights no matter if they are heavy or light, big or small size, short or tall.
So you can easily organize everything and make sure that you reach out to any weight quickly every time before working out without wasting too much time finding the right weight suitable for each exercise.
Weight Capacity of 200 lbs. or more
It is an essential feature when you choose the right kind of dumbbell rack that will last for years.
If your weights are over 200 lbs, make sure that the rack can hold at least half of its weight so that it won't start breaking apart too soon. It means that no matter how heavy your barbells are, they will never exceed their limit and damage the rack itself.
Compact Storage Solution
If you have limited space in your gym for storage, it would be a good idea to choose the right kind of dumbbell rack that is easy to move around. It is better to choose the right type of storage rack that can be folded up so that two or more people could carry them in one go.
Easy Assembly
Easy assembly is another feature that would be important if you want to save your precious time, especially when storing heavyweights.
The best would be a dumbbell storage rack where everything comes with an instruction manual or, even better, if they came fully assembled. It would be such a time saver, and you would not have to spend hours figuring out how to build them.
What are the types of Barbell Gym Storage Racks?
There are at least four types of barbell storage racks :
Triangular Barbell Storage Rack
Triangular gym equipment is a structure that consists of a set of three parallel bars designed in a triangular shape. You can use it to perform weightlifting exercises such as bending over, squatting down, or standing up with weights at hip level and then lowering them until they touch the ground. It is also known as the "T-Bar Row" or "Reverse Fly."
The triangular barbell storage rack is the cheapest of all four types. You can easily hang it on a wall or any other place you have available.
The triangular barbell weightlifting rack has an open space at the top, making storing it more accessible because it does not need to fit through a doorway as a vertical one would.
This inexpensive storage rack is perfect for those who do not want to spend too much money on expensive gyms equipment and instead can just use this cheap alternative that fits your budget perfectly.
Its ultra-lightweight features give better mobility when moving it from one place to another without having the hassle of lifting heavy metals compared to regular metal bars.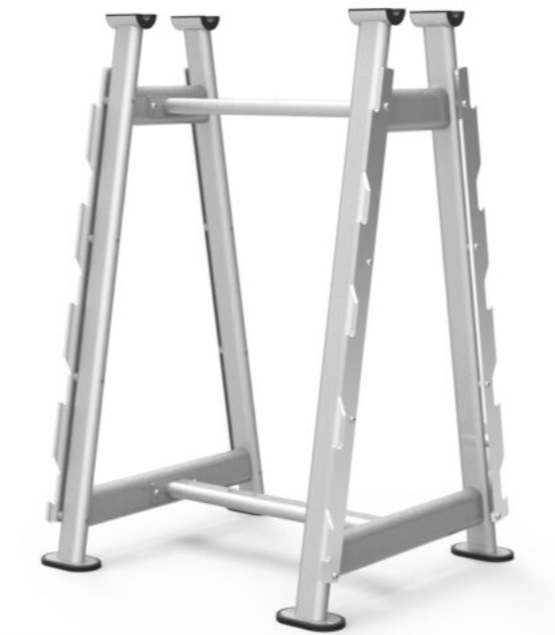 Figure 6 – A triangular barbell gym storage rack
Horizontal Barbell Storage Rack
A horizontal rack is used for keeping weights ready and organized. It is designed in a flat shape that allows several bars with plates or disks loaded on them to be stored within a single unit that takes up little space when it comes to having limited space in your house or apartment.
Horizontal barbell storage racks are primarily made of metal, making it possible for loadable bars with a weight attached to the top side of each bar to be safely and securely held in place.
Bars come in various sizes depending on how much weight they can hold, such as; 15KG, 20KG, 25KG, 30KG, 35KG, 40KG, and 45KG. Since it is made of metal, the horizontal barbell weight equipment is easy to set up and can be taken apart in minutes, making moving or storing in a limited space easier.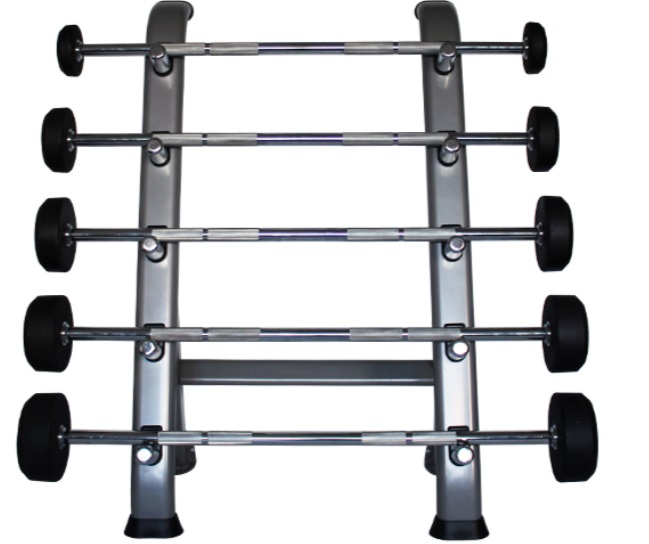 Figure 7 – A horizontal barbell gym storage rack
Adjustable Barbell Storage Rack
The adjustable barbell storage rack is built to hold one to five Olympic bars with weights attached at each end, making it much like a small gym. You can set it up by yourself without installing anything on walls or purchasing any other expensive materials such as rubber flooring.
It has security pins featured on its design that secures bars from sliding out or moving while lifting weight on each bar. It has a storage unit that can conveniently hold plates, dumbbells, and other gym equipment to increase weightlifting exercises effectiveness, such as squats or curls.
The adjustable barbell storage rack is made of metal, making it highly durable when used in commercial gyms. Professional lifters commonly use this type of barbell rack because it allows them to lift heavy weights safely and securely without needing to constantly re-arrange their equipment every time they change from one exercise into another.
Adjustable barbel racks are perfect for use in commercial gyms with limited space, but they would like to have all their gym equipment with them at all times without having to go through the hassle of setting up and take down several times.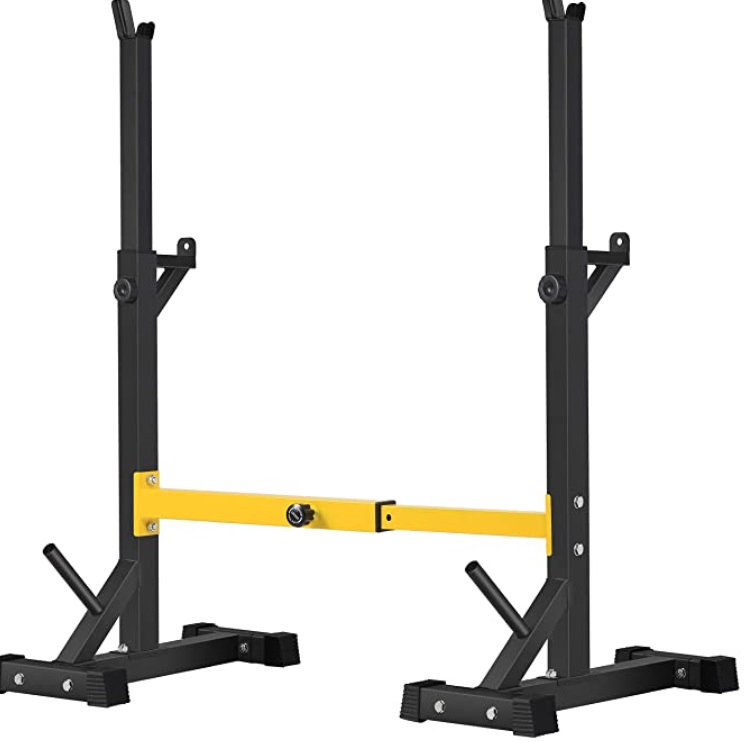 Figure 8 – An adjustable barbell storage rack
Vertical Barbell Storage Rack
Vertical Barbell Storage Racks are built to hold many weightlifting bars that can range up to four or more. It is much like a small gym that requires minimum assembly before you use it for the first time and no modifications on its design once set up in your gym.
You simply need to screw in a weight lifting bar into each rack which simulates having several machines that require heavyweights to be lifted while doing squats, bench press, or cleans, among other exercises.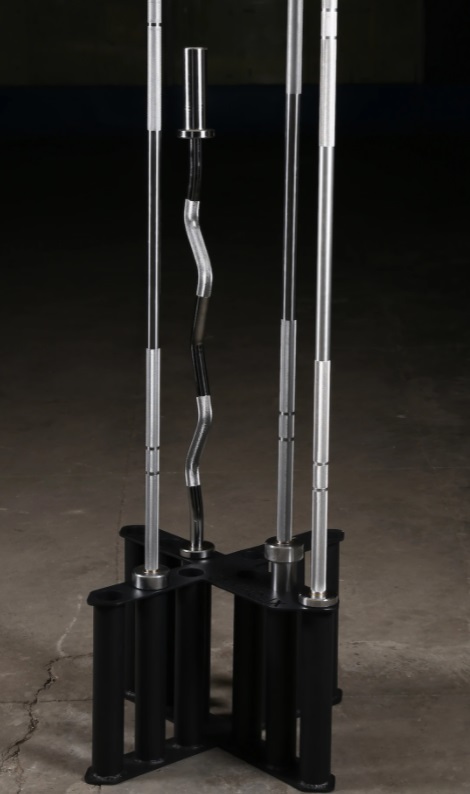 Figure 9 – A vertical barbell storage rack
What are the materials of a Barbell Gym Storage Rack?
The frame of a barbell gym storage rack is made of heavy-duty, reinforced steel. It makes the storage rack durable & long-lasting. Rubber stumps provide stability at the base and also make the storage rack scratch & slip-proof.
However, barbell storage racks at Yanre Fitness have industrial-grade, welded steel tubes with an electrostatic and powder-coated finish. This kind of material is top grade for the barbell gym storage rack.
You should consider buying Yanre Fitness because they have top-grade quality gym equipment, especially Barbell Gym Storage Rack.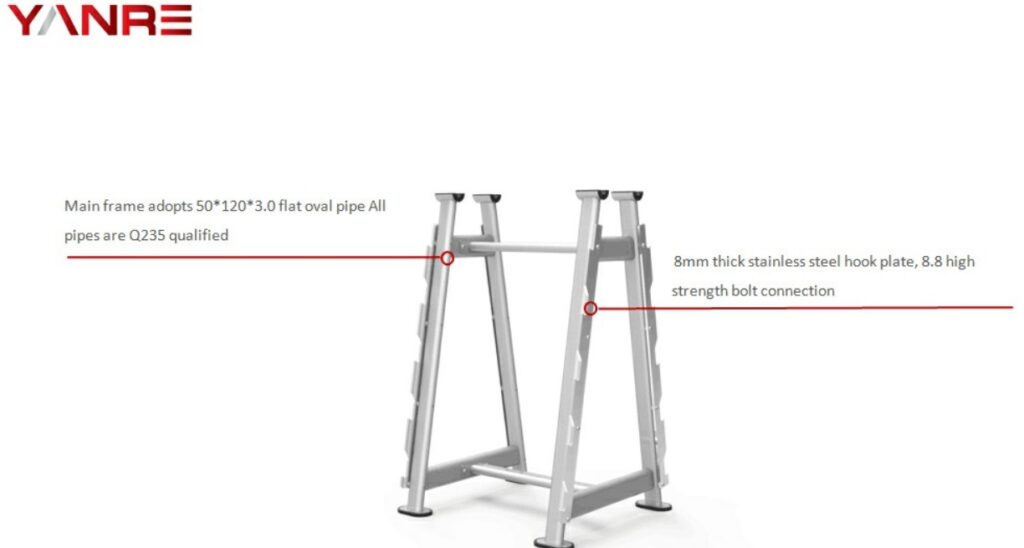 Figure 10 – Construction of a triangular barbell gym storage rack
What is the difference between a dumbbell & a barbell gym storage rack?
The differences between the two of them are :
DUMBBELL GYM STORAGE RACK
BARBELL GYM STORAGE RACK
Has shelves to store dumbbells
No need to secure the dumbbells
Two or 3-tier shelves
High weight capacity
Heavier than a barbell rack
Has hooks for barbell storage
Barbells are connected with J-hooks
Five or more barbell storage
Less weight capacity comparatively
Lightweight comparatively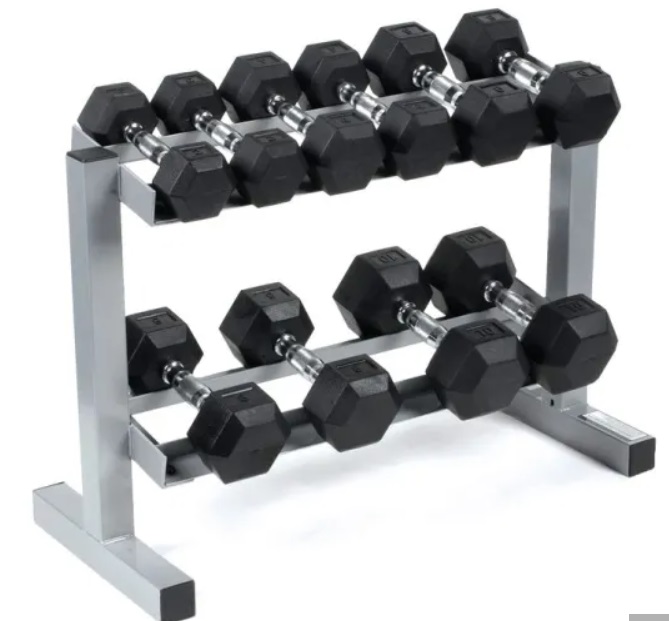 Figure 11 – A dumbbell gym storage rack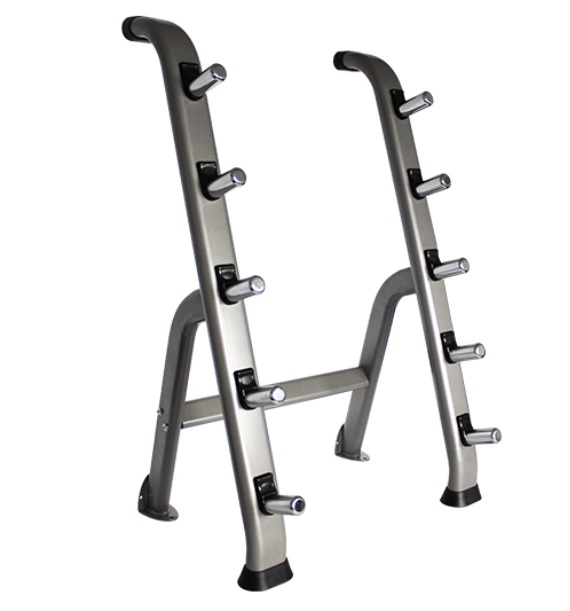 Figure 12 – A barbell gym storage rack
What is the difference between a fixed and an adjustable gym storage rack?
Here is some of specifications between two of them and an explanation below it :
Fixed Gym Storage Rack
The rack frame is fixed in one place. Thus it does not shake or vibrate when you load a lot of weights on the racks. The structure is built in such a way that it can support heavyweights.
The rack has an area inside where you keep your gym equipment without any kind of enclosure. It makes your storage area bigger than mobile/rolling type of storage racks, and you will waste no extra space due to compartments in the case of rollers.
The welded frame of the rack increases its strength, durability and makes it more rigid. The welded frame is strong enough to hold heavyweights.
There are no rollers, and hence there will not be any kind of problem-related to roller damage or malfunctioning (as in the case of mobile storage racks).
A fixed frame storage rack costs less than a mobile type one with rollers fitted along with other components such as hinges, etc.
It doesn't get damaged easily; you can load all your weights and equipment without any kind of worry about the rack getting damaged or worn off soon.
Adjustable Gym Storage Rack
The adjustable gym storage rack has a flexible frame, which allows the user to adjust it according to their height. It is significantly increasing its portability and accessibility instead of a static one that certain people can only use.
The design allows for less space taking up and storing away when not in use.
The mobility is high but be careful because it can cause issues if not correctly functioning, such as injury, by accidentally hitting someone while being moved.
It can wear down from continuous usage, which results in increased maintenance time and costs and the decreased overall lifespan of a product before it breaks or needs replacement.
It uses smaller amounts of material to build, allowing, in turn, fewer costs which are passed onto the consumer. It would enable multiple units to be made from one side of the unit versus needing to make each unit different sizes if they used larger amounts of materials.
Movable parts can wear out
The part that can move the rack will wear out while the rack still can hold the rust. The wear-out part usually is hard to buy separately from the rack.
What is a Weight Plate Storage Rack?
A weight plate storage rack or weight plate stand is a device used to store weight plates and sometimes the collars that go with them. A workout area can be outfitted with several racks for easy access to all the weight plates you need when you work out.
One type of rack has individual slots that hold one-inch and two-inch Olympic weight plates at various angles. It is mounted on an upright frame made from either steel or wood. The uprights are often covered by a fence, which will help keep unwanted items like shoes away from the weights during workouts.
These racks can also store bumper plates and standard weights because some models are equipped with holes along the uprights where smaller diameter weights like bumpers will fit. A simple solution to keep the bumper plates in place is to insert a nail through each hole and hammer it flat against the wood or steel upright frame.
A weight plate rack is a stationary storage device that holds the weight plates, which are then removed using the handles fixed on each side of the "tree" framework. There are many different types of this gym equipment, and to know what type you need for your commercial gym, you should do some research first.
If you have at least one unit of these structures installed near your workout area, it will help keep your room neat and organized. Here are some essential points that may be handy for you :
The D-shaped Structure
This structure is probably the most common type of tree used by people because it can accommodate plates from 2.5 pounds to 45 pounds. They are also available in different shapes and heights.
The Triangular Weight Plate Rack
This one also comes in a variety of sizes, ranging from 2.5 to 50 pounds per plate. It is also available in a round shape, ideal for people who want to have a lot of space saved with this design. This type has two handles that make moving the plates into place when you are done easily.
The Vertical Tree Structure
This weight plate storage device is used mostly by professional bodybuilders and other heavy lifters because it can hold weights up to 500 lbs or 220 kgs without compromising its stability at all. It's very versatile too.
You can opt for a single-handle design or a double-handled version placed on each side of the rack. The handles are strategically positioned, and you can choose which grip suits you best for your workouts.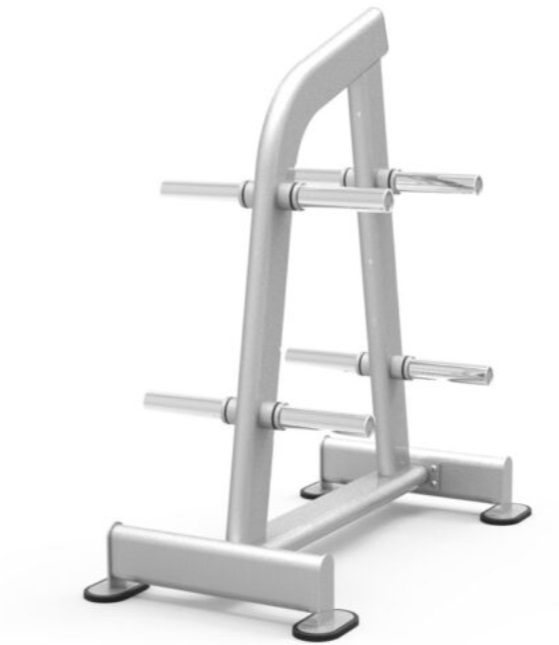 Figure 13 – Weight plate storage rack
What are the advantages of a Weight Plate Storage Rack?
Some advantages of weight plate storage rack such as shown below :
A weight plate storage rack is economical. Purchasing one gives you two benefits – the rack and a space saver.
The U-shape design takes up less floor space than a free-standing one does. You can place it in an area where there would usually be enough room for only one unit, like on the garage corner or the staircase landing.
You have more options about installing it since you have various base choices from which to choose, depending on what's available to fasten it onto at the gym, whether wooden boards, concrete walls, or cement floors.
It is easier to use and maintain because of its versatility, as it can be mounted to just about any type of surface you have at your gym.
Its all-welded steel plate construction won't bend, break or rust as cheap imitations will, making it more durable and lighter. And with the highest weight capacity available on the market today (1000 lbs/453 kg), its rigid frame can safely hold up hundreds of pounds worth of plates without sagging under their collective weight.
It is safer because, unlike racks that fold down or collapse, losing their place altogether, this one stays in position even when empty (using gravity as its anchor). You don't have to worry about awkward slips and falls while trying to balance a heavy barbell on top of it, nor do you have to worry about its structural integrity weakening over time.
It is convenient as it allows you to perform different exercises, keeping the workout exciting and varied, and saves you the trouble of switching out weight plates during workouts. It's ready for use anytime, even when multiple people in the gym use various pieces of equipment at once, and they're all trying to get their work done with as little hassle as possible. As a result, everyone gets more productivity out of their workouts by making better use of their time.
The fact that it can hold up to hundreds of pounds means no more straining your back or struggling under a heavy barbell while trying to balance it on a free-standing rack intended for lighter-weight plates.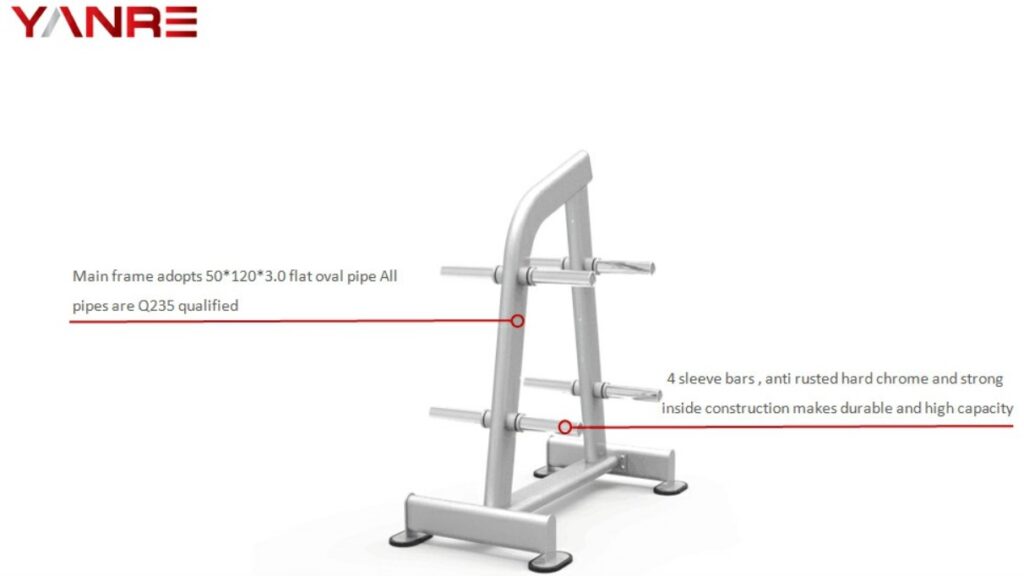 Figure 14 – A D-shaped wholesale weight plate storage rack
What is the function and different types of stability ball storage rack?
The Stability Ball is an excellent tool that gives you a tremendous upper-ab workout if used correctly. There are two main ways to use a Stability Ball: ab workouts using your body weight or weights.
Stability balls usually come partially inflated. Most people who purchase them will need to grow the ball using a pump or manually blow it into air valves.
The stability ball storage rack has many types, such :
Vertical Storage
It is a popular type of stability ball rack that can be seen everywhere in gyms or fitness centers.
The whole stability ball rack is made up of steel pipe with non-slip rubber foot pads at the bottom to ensure it stands still when loading heavy items so that they will not fall off or move around easily.
Unlike other racks, this one does not take much space. It is because you can hang your fitness equipment vertically on the wall by using hooks and weights hanging barbells and dumbbells into two separate weight lifting storage compartments on the vertical storage horse trough rack.
Wall-mounted Storage
A wall-mounted storage rack is fixed using a heavy-duty pin mounted on its backside part, and many of these types of ball troughs are usually made out of metal materials.
Unlike other types, a wall-mounted storage rack often takes up more space than any others. If you do not mount them correctly or hang them where they would stay safe, then there might be a possibility that someone might bump into them.
Ball-base
Ball base does not come in many different shapes, sizes, colors, or brands but is still widely used because of its durability and elegance.
The price tag on these types of ball base exercise troughs might be a little bit expensive than the other ones, but at least you know that you get what you pay for since these types can hold more weight than verticality ones if installed correctly.
Overall, different types of stability ball storage racks are simple because they are more convenient for the users and will not be damaged easily as long as you install them correctly.
The main important thing to remember in choosing between one type from another is always that you know what's necessary and suitable for your own needs so that everything goes well.
Figure 15 – A wall-mounted exercise ball storage rack
What is a wall-mounted gym storage rack?
A wall-mounted gym storage rack is a special kind of rack. It is designed to be mounted to the walls and not on the floor. A wall-mounted storage rack can have multiple shelves or hooks to set it as high or low as you like.
Sometimes, it may come with just one rod (a bar) that sticks out from the wall. These racks don't occupy any space on the floor and fit perfectly in crowded gyms, especially commercial ones where space is limited (and expensive).
Moving around this type of rack will not cause many problems because you can easily get around as it doesn't take much space inside the gym. It is why they are an excellent option for commercial gym storage. Space is always hard to find inside commercial gyms.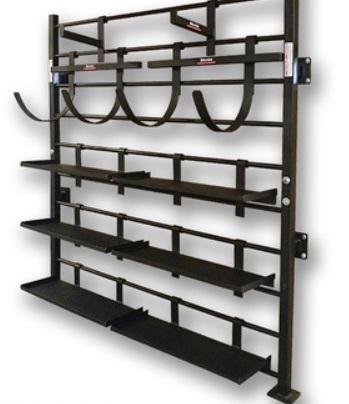 Figure 16 – A wall-mounted gym storage rack
What is a multi-purpose gym storage rack?
A multi-purpose gym storage rack has slots to store multiple types of Gym accessories at the same time. It means that one person can access all their gym accessories for a workout at any time without needing to move them from one place to another. It also helps save space as more than one gym accessory may be stored in the same slot.
There are many different variants of how you can use portable gym storage racks. They may have hooks or bars meant for hanging and storing elastic bands and resistance bands together with weight plates.
Another variant may include devices such as an ab/core trainer, medicine balls, dumbbells, jump ropes, along with other smaller exercise equipment like stability balls. These items can go into the same slot to free up the user from shifting them around. It will help save time and energy when attempting to complete a workout program.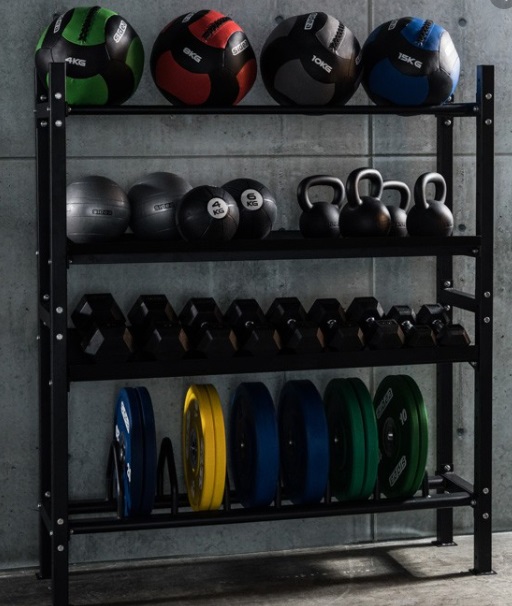 Figure 17 – A multi-purpose gym storage rack
How are wholesale gym storage racks beneficial for a commercial gym?
There are some benefits that you get such as :
Compact Storage
Gym storage racks are a great way to maximize the space of your gym area. Whether you have floor-mount or wall-mounted versions, they can be installed with slanted shelves that help save room, so everything is easily accessible and close at hand when it's needed.
Organizing
Storage racks are the key to a well-organized gym. They allow for more efficient use of floor space, which in turn helps keep your fitness center looking professional and pleasing to the eye. These durable pieces also help prevent injury by ensuring equipment is always within easy reach and out of harm's way.
Promote Safety
By placing all of your weights onto one rack, you can avoid any tripping hazards that may occur if they were just scattered about randomly. Barbell storage is even better for these purposes because it has J-hooks to secure the bar, so there's no risk of dropping anything when picking up or putting it down.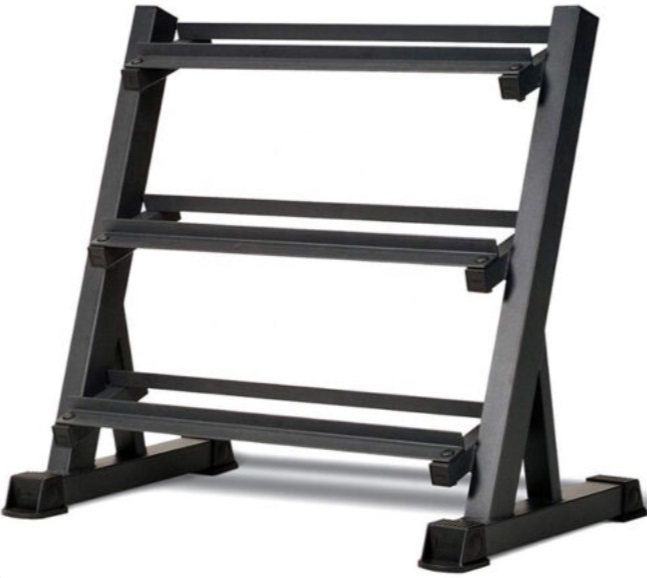 Figure 18 – Anti-slip & scratch-proof rubber pads at the base
Sturdy Construction
With a high-gauge steel construction and rust, scratch-proof finish, quality gym storage racks have become an essential part of any workout. These sturdy units can store many different accessories at once, which helps with weight lifting by raising the load considerably.
Poorly constructed models may wear down quickly, but these are made for toughness so that they're able to withstand heavy use while still looking good.
Versatility
Gym storage racks are like a Swiss army knife for fitness enthusiasts. It is very versatile. They have many different versions and can store any kind of accessory used in a commercial gym.
High Weight Capacity
The weight capacity of a gym's rack is essential because it can store multiple free weights at one time. Keeping more than the racks max weight limit on top or underneath will cause damage to the rack and could potentially lead to injury if someone ever drops their weights unexpectedly.
Easy Assembly
Gym equipment is often shipped from abroad. It also applies to storage racks for gyms.
They will be delivered partially assembled, making them easy to assemble with the instructions manual provided by the manufacturer. Once you have put it together according to their guidelines, your rack should work well as a good place for storing all of your gym accessories.
Foldable & Adjustable
Some models of gym storage racks are made to be compact and foldable. When not in use, you can quickly fold the rack into a small space out of the way until needed again to store items like yoga mats or other sporting equipment.
Some gym storage racks have adjustable columns that you can move independently depending on what type of things need to go inside them, even when they are unfolded.
Conclusion
With all of the benefits that you will get, it is no doubt that Gym Storage Rack is needed because when your client is happy to have a workout at your gym, you potentially make more money than before.
Therefore, Yanre Fitness comes for you to provide a top-grade quality Gym Storage Rack. With all of the positive reviews from all over places, you don't have to think twice buy one from Yanre Fitness. Now go to Yanre Fitness and start purchasing it.